We've all heard of successful online businesses that run membership sites and earn buckets of money.
It sounds like a lot of work, and it raises a bunch of questions. At the end of the day, when was the last time you read something on the Internet and believed it?
As a business owner, you have every right to be skeptical.
Does this subscription model work?
Would customers be willing to pay for something like that?
If so, how much would they be willing to pay?
Here is what you should be asking:
Do you need your own membership site? Could you make money out of it?
Every time we see a great website, we think to ourselves:
How impressive! Wish my own membership site were like this…
The good news is, this may be easier than you think. There is only one thing hiding behind all those admirable membership websites: the right idea at the right time.
And yes, we do realize that you can't build a functional website only with ideas. But this is why we've prepared this post.
Read about the best membership site ideas and get inspired!
What is a membership website?
Any website with limited content that requires login and paid membership is a membership website. Sometimes, end users only need to register without paying, but we will focus on membership website ideas that generate profit.
Think, for instance, of gym memberships. The only way for users to benefit from your services is to register and pay for their memberships. Also, membership websites offer reports, videos, tutorials, templates, apps, etc.
You can offer anything you like against a monthly payment.
Membership websites won't only drive money your way but also help you create a community and earn regularly.
Before you begin, think clearly about what you want to achieve and how much you want to earn. The next step would be to prepare and deliver content to your audiences. It may sound like a no-brainer, but the content needs to be attractive and unique.
Whatever you post, make sure it brings value to the customer. It depends on your interests and audience.
There are online courses, entertainment services, consulting services, etc.
You can offer anything that is in line with your business.
This is, for instance, how Netflix became so popular.
In the web development world, this content is known as 'gated content', and it is normally hidden behind the paywall.
What paywall are we talking about?
Hard paywall – all content is available against payment.
Soft paywall – Certain content is offered for free, but there is also a paid premium access.
Metered paywall – It varies. In most cases, a certain amount of content is offered for free for a certain period, for instance, 5 articles per week.
Developing membership websites tend to start with soft or metered paywalls to attract new members. For instance, Amazon offers Kindle on a soft paywall, to enhance the number of new members and sign-ups.
What can successful membership sites do for your business?
Depending on your efforts, you will have more and more members every day. Demand doesn't decrease, as people are and always will be interested in new information. If you follow the market and provide the content they want, you're golden.
This is what a good membership website can do for your business:
Enhance relationships and build community forums
Content is all about engaging people. Soon, there will be a bunch of users commenting on your work and relying on your content. Isn't it great to have a loyal community where everything rotates around you? Which business doesn't need that?
It doesn't take much to realize how these communities benefit your payroll. They let you collect qualified leads and convey surveys. As a result, you can easily come up with highly qualified content that keeps readers engaged.
Recurring income
A successful membership website that keeps producing value for its members generates a steady income. Even with 100 members each paying a $20 subscription, you would be earning $2,000 a month. Note, however, that memberships need to be nourished and maintained with quality updates.
You can't avoid losing a member here and there. The secret is to keep the ratio between the ones leaving and the ones coming proportional, at the very least.
Added value
Sure, you may think your business hasn't come far enough to require payment for your content. But is it so?
Many studies indicate that people tend to value paid services way more than the ones offered for free. From the moment you've asked them to pay for what you offer, you've won their attention.
When you charge for your content, you charge for your brand. Customers trust you almost instantly, even if you require nothing more than a dollar. They will be equally keen to keep their free trial going, as long as they see it is worth it.
In short, this means that any paid subscription content gains assumed value. A membership website is also great for upselling opportunities and partnerships.
Leverage
With a membership website, you can leverage content and time in the following ways:
Think of content as an asset you can reuse. You only create it that one time, but you can sell it a hundred or even a thousand times.
The membership website should be automated. People will be invited to join and research your own membership website without you moving a finger. How awesome does that sound?
And the best part is, this won't ever change. You put in a little effort and come up with some serious amounts.
How to launch your membership website?
In all honesty, the success of a membership website depends solely on the topic focus. Once you have the right content, you need to advertise your site and do some serious planning.
The setup may be more complicated than you thought, but all successful membership sites come down to a few essential steps:
Brainstorm ideas for your membership business
Gather your skills, ideas, interests, and talents on one list. Research good membership ideas to get inspired and to determine what membership model you want to use.
Where can you find the top profitable membership site ideas?
The first step is always to check what the competition is doing. Which are the most popular sites?
Research the competitors and check how their membership features look.
Research the niche you're in together with the words 'membership' and 'join'. You will find what you need within seconds.
Go for simple solutions that will last
All membership websites praised by the online community have one thing in common: their design is simple and intuitive.
The goal of your membership website should also be to communicate the provided value immediately. The value proposition needs to be clean and easy to locate.
Engaging content
Once you've settled on the design basics, move to your most important tool – the content you deliver. This will require more time and planning, but only at the beginning. You can, later on, create content as you go.
Invest in marketing
A smart man once said, invest 90% of your money in marketing. The only way to profit from your membership website is if people know about it.
Types of membership websites
Membership websites with premium content
Content libraries are the most popular type of membership site, according to the online community. They offer users a large number of articles, videos, blogs, or any other type of informative content that could be interesting to them.
And yet, these members can only access your membership site and the content if they pay a monthly fee.
You can split up access in many different ways. For instance, you can make the library fully available upon payment. Alternatively, you can develop a freemium system. You can provide free content, or such that targets lower-paying customers. There are many great tools for the purpose, for instance, Ultimate Membership Pro.
The perfect templates for your membership website ideas
Nobody likes to reinvent the wheel, be that when building a house or launching a membership site. Templates do the magic on their own. If you know how to customize them and bring them in line with your brand, you will have a website in a couple of hours.
The most popular membership program templates are:
Customizable graphics
Templates for WordPress site ideas
Grocery lists and meal plans
When in doubt, check the membership websites of Private Label Rights. They offer licensed and customizable templates for any type of branded content.
Membership sites for cooking and recipes
A membership website for cooking fans is always a good idea. People will never stop looking for new recipes and ideas, and they even share those making it easy to create a community. The culture, age, or nationality doesn't matter – these membership sites always have lots of fans!
As an admin, you can come up with all sorts of creative ideas. Invite users to create meal plans, make videos while cooking, share nutrition facts, etc.
Membership sites for entertainment
Are you passionate about filming documentaries and can't wait to tell the world how great they are? Believe it or not, this is how the biggest TV networks made it to the top. They also started from scratch.
A great example is Pageants Live. The entire platform rotates around beauty pageants, and they are the favorite network of any reality junky. Who says there aren't millions of people out there who share your passion as well?
If your idea is popular and liked, you will make a profit in no time.
Online communities
It is in human nature to strive toward collectivity and to socialize with others. This is why social media got so popular in the last year. One may argue that the best membership website relies on this idea, so give it a second thought.
Your community-based online membership site can become a hub for ideas and suggestions. It will make optimal use of the wisdom of the masses, and users will help each other completely independently from you.
Online forums, on the other hand, address specific questions. The online community answers them with first-hand experience. Better yet, there is minimum involvement on your side.
Have you heard of Behance, for instance? Adobe keeps audiences engaged with daily photoshop quests. It is also the members who address the quality and provide alternatives.
DeviantArt, on the other hand, gathers art lovers and helps them promote and sell their work.
And this is only the peak of the iceberg! There are many great membership site examples to learn from.
Fandom membership sites
If your top three choices of movies and TV shows start with Game of Thrones and end with Harry Potter, this is the idea to look into.
You don't need to know everything – if you know more than average fans, you are all set to go.
They say those who love what they do won't work a day in their life. Keep this in mind and monetize from your favorite entertainment medium, be that Star Wars or the news. We assure you that you will drive lots of traffic your way, especially if some of the content is free.
The only eventual downside to this idea is the investment. Users expect these membership sites to be as good as the movies they promote.
Membership website for networking
Did you ever notice how difficult it is to find the right forum for career advice and networking? Why not look into that?
Build a membership website that caters to the needs of professionals, and helps them find the right job or training. LinkedIn and Xing do a great job, so check them out.
A membership site for hobbies and creativity
Sometimes, hobbies take up just as much time as our regular jobs. The difference is, that we love spending time (and money!) on them. Another thing common to all hobby enthusiasts is that they love to exchange opinions, and even buy and sell to each other. What could be a more thriving environment for membership sites?
We'd suggest you put your hobby in the focus or a very popular activity. Ideas would be gardening, writing, music, animals, etc.
Fine Gardening is a membership site that can inspire you. It also features a lively forum where members exchange ideas and get alerts on material sales.
Membership sites for news and information
As an expert in a certain area, you probably like sharing informed opinions with audiences other than your closest friends. Journalism membership sites can help you do this in the long run. Since it is you who controls the content, you won't need to run all ideas past an editor.
This membership program was adopted by all leading magazines we used to buy in the past. Among them, there is a membership website that used to be free but now earns solidly from the paid subscription.
You don't even need unique or hard-to-find information, as you do with online courses. You can do the trick by prioritizing and organizing this information in a way that keeps readers happy. Reuters Connect is among the best membership site examples for this purpose.
Membership site ideas for lifestyle, skills, and training
If you know how to do something, teach others as well.
Assuming that you are a car aficionado, you probably know all about the brands, features, and prices. You always knew you could make a fortune training people how to sell cars, and this is the time to begin.
This topic was, is, and will be researched online. You, on the other hand, will turn your lifelong passion into a money-making machine that helps you and other people as well.
Here are some additional ideas:
Teaching people how to prepare for disasters (the global situation speaks in favor of this idea)
Teach people how to clean and maintain their homes
Teach people how to dress and accessorize
Teach people how to buy and decorate their new homes.
The list goes on and on.
Membership site ideas for training and certification
There are many ways to monetize a learning membership website. Next to organizing online courses, you can:
Equip content libraries for learning
Organize personalized and one-on-one sessions and training
Offer paid certificates
Offer online courses for free, but with paid certification
You can either offer existing certificates from third parties or create ones of your own. This idea will work great with employers and employees.
To help you with this, we've gathered some awesome membership site ideas that could inspire you:
General Assembly is probably the best-known online course provider with years of experience. They train users in marketing, design, data, coding, and much more.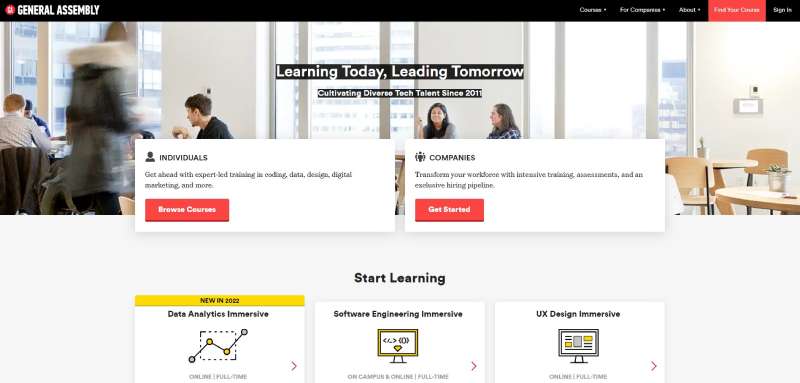 LinkedIn Learning is a prominent case study you can check to see how a great membership website can influence your organization.
Codecademy is General Assembly's strongest market competitor with some excellent online courses. They rely on a self-directed learning approach.
Membership site ideas for online learning and homeschooling
Nowadays, there are more children than ever learning at home. For those with education experience, this can be a genuine earning opportunity.
You can prepare and offer online courses of all sorts. The Measured Mom is a good website to take as example for this purpose.
School Tools TV does a great job as well. The key feature is their premium video library that targets teachers and helps them improve their academic approach.
Membership site ideas for fitness & wellbeing
How would you like to become a full-time yogi that works from home? Here comes a great idea for you! More and more people choose to stay at home and subscribe to a membership website, rather than practicing in their usual studios.
It can be yoga, pilates, or fitness. Each of these practices can be transferred online and still provide you with as much money as you'd earn from a physical studio.
If you don't believe this, check Wanderlust TV. This yoga studio is completely virtual but offers top-notch yoga classes, and visitors are simply amazed.
Be Healthy Enough, on the other hand, offers all sorts of workout videos, but targets a specific 50+ audience.
With the right membership site, you can also monetize your services and offer limited access to those who need them.
Micro-niche
A micro-niche membership site can generate profits for those operating in a smaller market where people are willing to spend more. The membership site helps them gain market share in no time, as there is less competition.
Blacksocks, for instance, has a unique success story. You are right, they specialize in socks. They've only sold black socks for nine years. Nowadays, they sell all sorts of socks, everywhere in the world.
The core revenue variables of your membership site
Monthly membership only (Drip-Feed Model)
Every membership program is based on the idea that audiences will grow at the same pace as content does. To be completely honest, this is how most paid membership websites make a living.
Here are the most popular membership sites that follow this approach:
Podcaster's Paradise has a very clear premise: they let you start a podcast against a very minimal monthly fee. The more you play, the more podcasts you can create, and the more features you get.
Duncan Rhodes Painting Academy keeps adding fresh content every day to keep readers interested. Although it caters to the needs of miniature painters, it certainly offers deep knowledge on the subject.
Membership site ideas for product bundles
Most of the time, website owners create a membership site to offer physical products. You, nevertheless, can also sell virtual ones, or a bundle of the two.
You can sell anything on a membership site, even if it is a box of healthy snacks you ship to the subscriber every month. You can join the snack lovers in a worldwide community, and keep them hooked with extra gifts and discounts.
The leader in this market is Birchbox. The membership site operates with a subscription box model and it has been very successful.
It keeps people engaged by providing price drops for a limited period. It began as a start-up in 2010, but it is worth millions nowadays.
All-in membership site ideas
If you intend to offer all content at a time and with no limitations, this is your winner. Readers also enjoy a membership site that doesn't take much time, and where they have unlimited access to everything. This works well on tips & tricks websites, DIY hubs, or how-to manuals.
With this model, you can either charge per month for the accessible modules at the time or ask for a one-time licensed prepayment that covers it all.
A freemium membership site
The freemium model is also very popular for membership websites and for a good reason.
First, select the content that encourages conversions (and is therefore offered for free). Second, hide the content that is unique enough for payment. This is an informed decision, rather than a random choice.
Think of the True Crime Obsessed podcast series. Most of their podcasts are free to listen to and download. And yet, developers had some great membership website ideas. They enabled the so-called Patreon supporters to pay for advertisements or bonus episodes.
16 Personalities is another membership site where plenty of great content is offered for free. Note that for most users, paying for something only becomes an option when they've had a taste of it.
Evergreen and fixed-term paid membership site
If you want users to have unlimited access to content forever consider the one-off subscription model. Keep in mind that these subscriptions need to be more expensive than the joint sum of monthly payments to come clean. This, unfortunately, won't sell easily.
What the customer needs to understand is the saving he is making by purchasing this plan. Lots of people (including myself) think of this a good deal. This makes sense especially if they are being online courses or professional and career advice.
An upside to this membership plan is also its simplicity. You only process payments once, and you don't need to manage access for every piece of content. It also means that you've got a lifetime customer and member of your community.
Another thing these membership websites produce is the feeling of urgency. Customers will not only want to buy your services but also retain them for as long as possible.
How to get people involved in your paid membership program?
For starters, keep the following in mind: people tend to imitate what they see, which is why they follow trends. Charities learned this trick years ago, which is why they gather such enormous amounts based on human kindness.
Social science calls this the 'social proof'. Membership websites are no exception to it. The first thing your potential subscriber is looking for is the number of subscribers you have. This is how you get there:
The social circle
As the owner, you need to involve lots of energy to make people hear about your membership site. Such marketing campaigns can cost a lot, so get creative and do some of the work on your own.
Add a small snippet on the membership site and make sure it appears on all emails. It should not be intrusive or exaggerated. Its goal is to invite users to visit your website. This is the best way to ensure the offer is shared with families, friends, and colleagues.
The current customers
Do you have an existing business or another website with actual customers? This is the crowd, to begin with, so make sure they know about your membership site. Inform them promptly, and don't forget to mention the discounts and benefits for them.
Let current members find new members, and reward them for that
Your membership site tribe needs to grow all the time. Make sure that subscribers to your online business are rewarded for inviting new people. Personal referral is the most successful type of referral.
Drive traffic with advertisements
We can't highlight this enough: invest in marketing! You can't earn from an online business if there is no business to start with.
You are right to assume that marketing is expensive, but it certainly pays off. If your budget doesn't allow big expenditures, take over some of the heavy lifting. Get on social media and reroute visitors to your membership site. No wonder influencers are so successful!
Final thoughts
When done correctly, a membership site can help you monetize your online business. This post offers some great membership sit ideas you can put into practice, so give them a try. Keep in mind: online businesses, the same as all other businesses, require passion, commitment, and time. The good news is, that they may not require as much money as you thought they would.
Membership sites help you make a credible online presence and build a community around your service. The more successful your membership site is, the more attention it will attract, so make sure it adds value to all subscribers.
Teach people how to do stuff, motivate them, or fix their problems. At the very least, give them an entertainment platform where they love to spend their free time.
Whatever you do, make sure you are up for it. Take your time and plan the structure with care. Both your vision and your content need to be unique!it away. Or, click the Write button and compose something new.
If you enjoyed reading this article about membership site ideas you should read these as well: